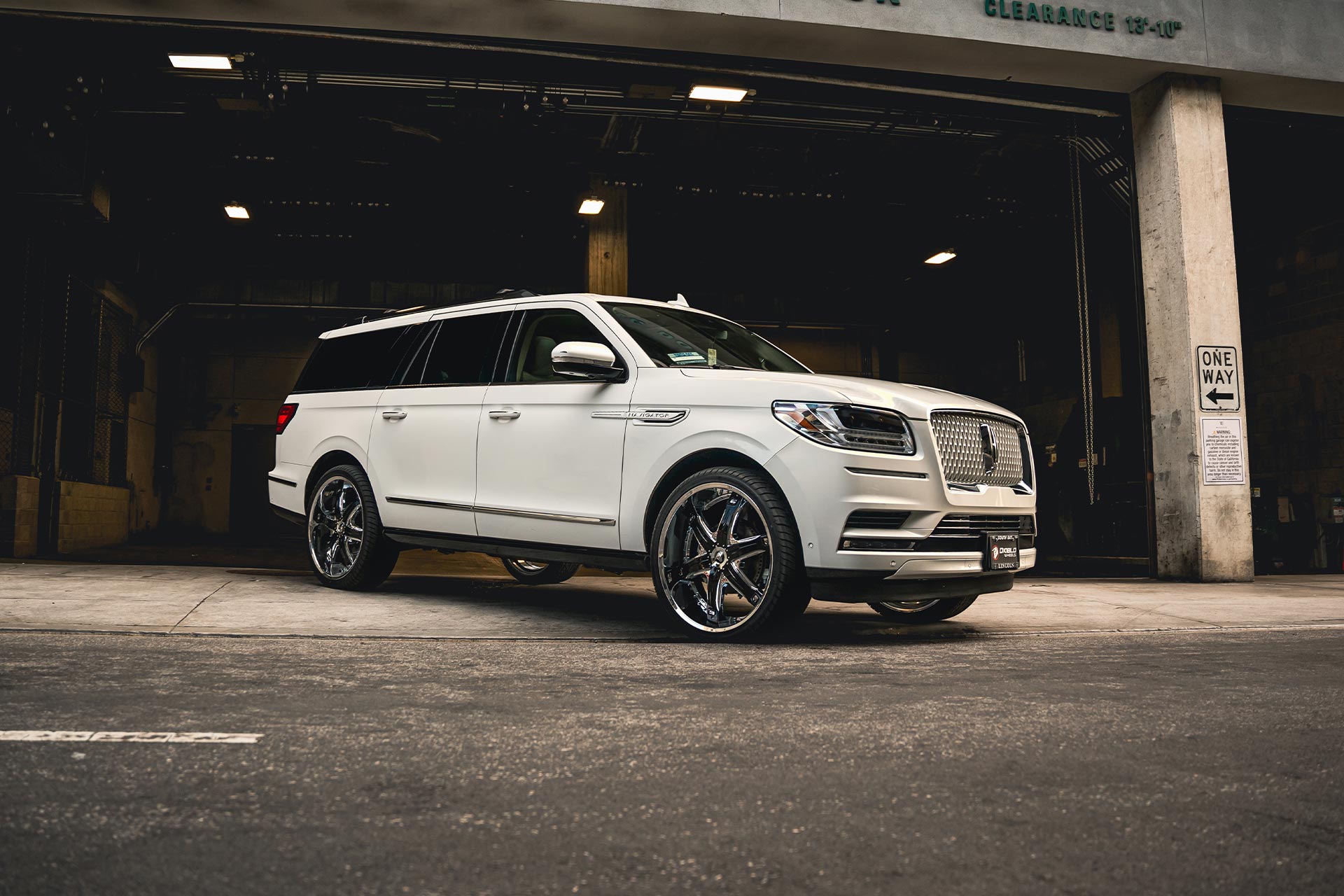 01 Feb

Lincoln Navigator


Fury | 26x10

Fury | 26×10 | Chrome/Black Inserts


Behold, the 2021 Lincoln Navigator! The first generation Navi started production in 1997, and has since held its title as one of the top luxury SUVs in the game. Fast forward to today, and the fourth generation Navigator is truly a luxurious masterpiece. For being such a big family SUV, trust us when we say this thing has serious kick. With a 3.5L twin-turbo V6, this big boy really forgets how big it actually is. This specific 2021 Lincoln Navigator is all stock other than the wheels and tires. Lately, we've been doing a lot of stock car projects to showcase how our rims can enhance the look of any car. Just because you don't have a full-blown show car, it doesn't mean you can't enjoy Diablo Wheels. Continue reading to learn more about our Lincoln Navigator rims and the Diablo Fury fitment.
Big Truck, Big Rims

Like we said…Diablo's look great on anything. All of our rims are manufactured specifically to look good anything from show cars , street cars, all the way to donk builds. There's something mesmerizing about big SUV on 26 inch rims, isn't there? The owner of this Navi got in touch with us and wanted to elevate the appearance of the luxury truck. It was important for him to achieve this with a plug-and-play fitment that required so trimming, shaving or interference with suspension components. Thankfully, all of our rims are built to do that. That said, the choice was the gorgeous Diablo Fury. In the end, this Navigator is running the Diablo Fury in 26×10 on all four corners, wrapped in wide 305/30/26 tires. The color choice of the rims compliment the pearl white exterior so well, with a chrome base and black inserts. The classic six spoke Fury's compliment the bold lines of the Navi, and like we said, the pearl white paint really sets it off.
For more information regarding our Lincoln Navigator rims, contact us at cs@diablousa.com or give us a call at 626-813-2500.