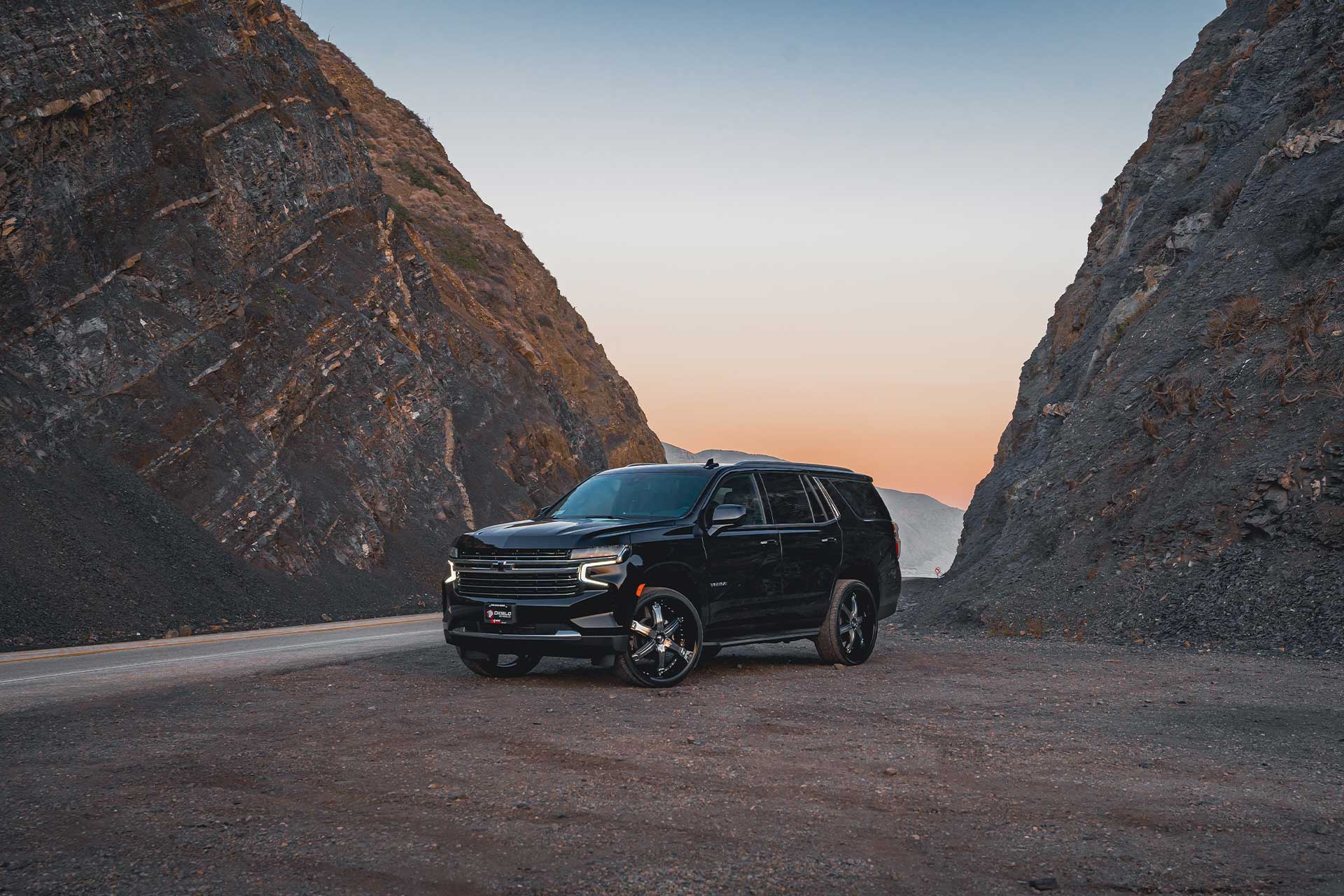 11 Nov

Chevy Tahoe


Fury | 26×10

Fury | 26×10 | Black/Chrome Inserts


When you think about the Chevy Tahoe, you probably think of a family car. Granted, that may be the case considering the Tahoe is one of the most popular SUVs in America. However, here at Diablo Wheels, we don't conform to society. We do what we want. We've been a part of some crazy Tahoe builds in the past…we're talking top to bottom customization. This particular Tahoe is pretty much all stock. But see, that's the point. What we're trying to say is; that our rims can not only be used in balls to the walls custom builds, but on stock cars as well. Diablo prides itself on creating wheels that are plug-and-play. What better way to showcase Diablo's endless possibilities than on a gorgeous 2021 Chevy Tahoe? Continue reading to learn more about our Chevy Tahoe rims and the Diablo Fury fitment.
Modern Beauty

Like we mentioned above, your car doesn't have to be a full-blown show car to take advantage of Diablo Wheels. We manufacture our wheels to compliment all types of vehicles, from everyday drivers to SEMA builds. There isn't anything more eye-catching than a Chevy Tahoe on 26 inch rims. When the owner of the Chevy got in touch with us, he made it clear he wanted a plug-and-play fitment without any further modifications. Lucky for him, every wheel in our lineup is capable of that. He fell in love with the design of the Diablo Fury, and it's hard to argue. This Tahoe on 26's is running a square 26×10 setup wrapped in 305/30 Lionhart tires. As for the finish of the rims, we collectively decided to stick with the standard black with chrome inserts. The spoke design and finish of the Diablo Fury compliment the modern lines of the Tahoe perfectly, especially on the factory black paint job.
For more information regarding wheel fitments for the Chevy Tahoe, contact us at cs@diablousa.com or give us a call at 626-813-2500.