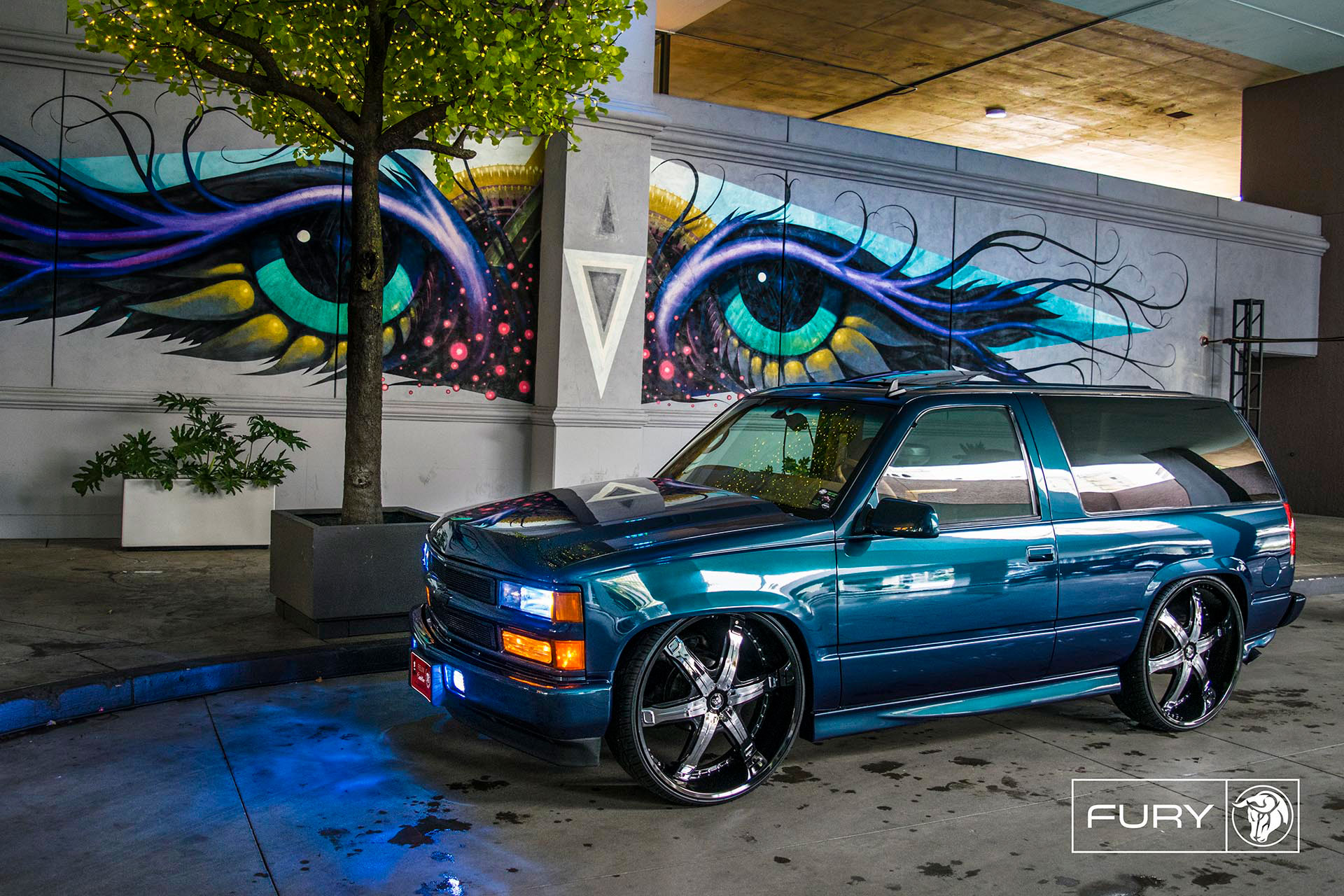 27 Sep

Chevy Tahoe


Fury | 28×10

Fury | 28×10 | Black/Chrome Inserts

The first generation Chevrolet Tahoe was introduced to the world in 1992. Since then, it has been dominating the truck market. Interestingly enough, these first gen Tahoe's weren't what they are now. These trucks were initially featured as 2-door wagons. Let's take it back a bit…the Tahoe wasn't actually called a Tahoe until 1995, which is also when they introduced the 4-door variants. It was called the Blazer. Regardless, the styling of the first generation Chevy is iconic, and the perfect foundation for a custom build. Having said that, the owner of this bad ass truck went all-out. Continue reading to learn more about our custom Chevrolet Tahoe rims and the Diablo Fury fitment.
Custom Tahoe on 28's
Enough about the history of the Tahoe, what really matters is the work that was put in on this truck. The owner of this truck wasn't afraid to push the envelope. The truck features a gorgeous chameleon paint job that looks blue and purple, depending on the angle you're looking at it from. In addition to the stunning paint, the Chevy has custom lighting on the exterior while the interior is fully upholstered. Needless to say, there's one thing that makes this build perfect. That's right, the Diablo Fury wheels. It was a great choice opting out of the color-matching for the inserts. In our opinion, the standard black and chrome finish gives this truck a great look without being over-the-top. We have to admit, this is our favorite generation Tahoe due to its classic body lines and 2-door wagon design.
For more information regarding wheel fitments for our custom Tahoe rims, contact us at cs@diablousa.com or give us a call at 626-813-2500.