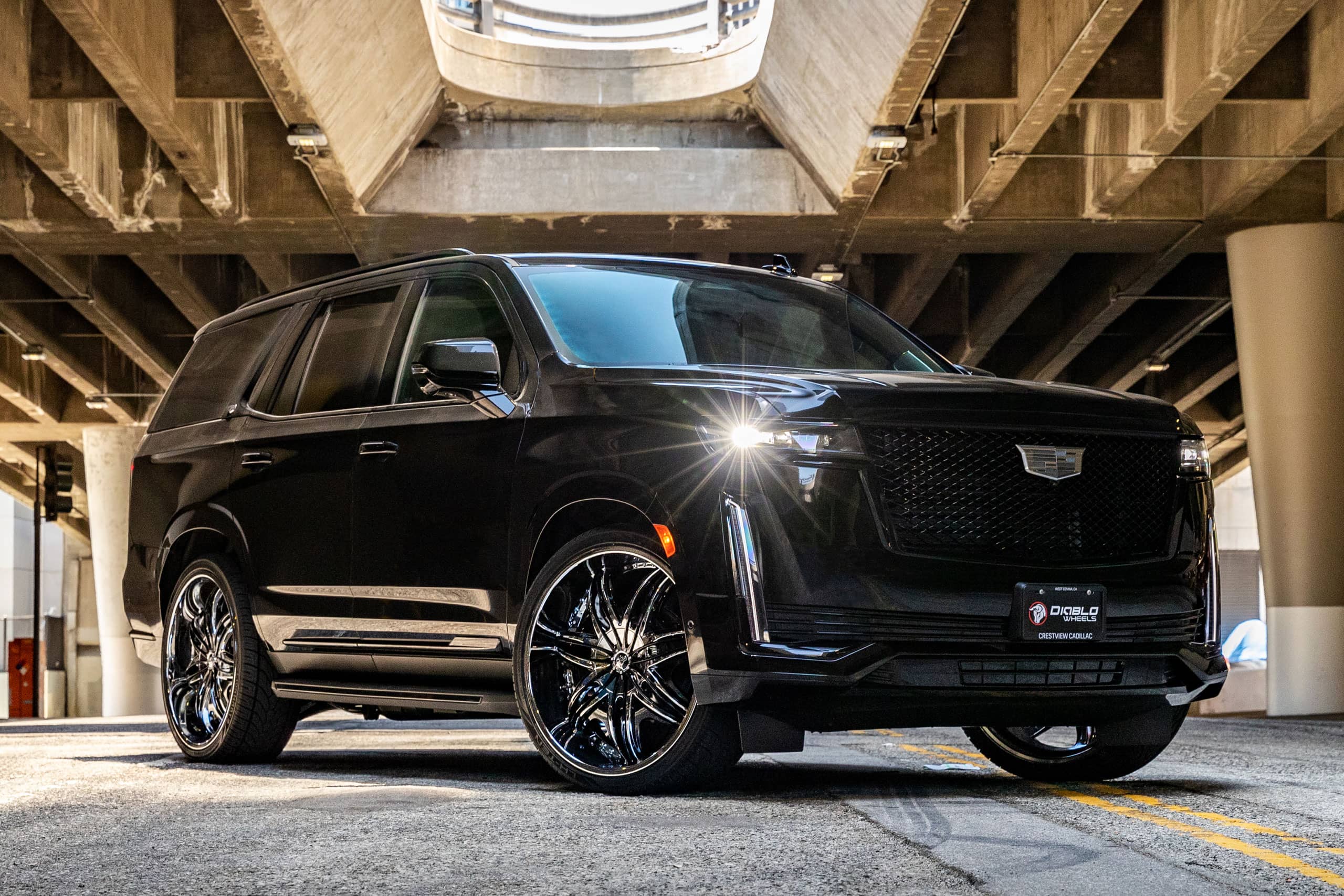 17 Aug

Cadillac Escalade


Morpheus | 26×10

Morpheus | 26×10 | Chrome/Black Inserts

What car do you think of when you think of the word 'boss'? Surely the Cadillac Escalade? Diablo wheels and Cadillacs are the perfect duo. Diablo Wheels has been providing Caddy owners with unique wheels in customizable finishes and flexible sizes for 20 years. Swapping out the boring factory Escalade rims to something much more aggressive is a great way to separate from the pack. Paired up with some beefy tires and you've got yourself a force to be reckoned with. We were super excited that we set up this shoot with a brand new 2022 Escalade; and the end result is a masterpiece. Continue reading to learn more about Cadillac Escalade rims and Diablo Morpheus fitment on this vehicle.
Escalade on 26's
If you've been following Diablo since the beginning, then you know an Escalade on 26's is not uncommon. The moment we laid our eyes on this Escalade fresh off the dealership lot, we knew the path we wanted to take. We mounted the Diablo Morpheus wheel in chrome and wrapped them in 305/30/26 Lionhart tires. It's safe to say this car has a huge personality. The gleaming finish of the chrome wheels and the black inserts give the Escalade on 26's a truly beautiful look. The deep black paint finish and the modern rounded body lines set the mood perfectly. Speaking of body lines, the Morpheus wheel checks every box. With a unique twist on a classic 7-spoke wheel, we've created something visually pleasing and fully customizable with our inserts that can be painted in any color imaginable.
For more information regarding wheel fitments for the Cadillac Escalade, contact us at cs@diablousa.com or give us a call at 626-813-2500.